Nov 19, 2022
Welcome to Micpedia
Welcome to Micpedia!
Micpedia is born out of a love for Microphones. It offers authoritative, neutral, technical information regarding vintage and new microphones for audio professionals, recording engineers, studio owners, videographers, home recording enthusiasts, podcasters, and DIY musicians. It hosts encyclopedic knowledge of microphone characteristics and specifications on almost 4500 models, both vintage and in current production, with price and usage guidelines, and links to purchase on online retail shops where available. Every mic is described with the manufacturer's published data and normalised to the same units.
Users will notice that frequency response and polar plots are missing – this information will soon be added, once we find a way to automate its extraction from the datasets we have (we ask your patience while we work this out).
Micpedia allows you to maintain an inventory of your own microphones, as well as a wish list of desired future purchases. These are called "My Locker" and "Dream Locker". You can create multiple Lockers if you wish to keep multiple lists. Mics added to a locker can be annotated with purchase date, price, and serial numbers, to keep this information safe and have an overview always ready of the current value of your collection. Multiple units of the same model can be added and are displayed grouped by model (refresh after adding). This information can be downloaded as .csv (in progress) or eventually made public and embedded in other sites (planned).
Micpedia will soon offer a community shootout gallery for easy comparison between microphones and models. New guides to proper recording configurations and best practices will be frequently published.
We are working on a more robust search function. In the meantime thanks for your patience.
The data behind Micpedia was and is curated by experts, led by Riccardo Ricci. However, inevitably there will be errors, either copied from the manufacturer's data sheets, made in copying into our database, or from the migration of the previous database. Please write to us if you notice any.
To put the data into context, you will also find a library of articles by some of the most eminent people within the audio industry that Rycote commissioned specially Microphone Data and Micpedia has subsequently commissioned for the site.
Micpedia's data builds on a previous database named microphone-data.com, a project launched in the 1990s which at one point counted over 50,000 users. For several years this site was neglected until it was bought by ODRATEK BV. Micpedia is a relaunch, updated for content, style, and features, and with a greatly expanded Mic Library. The site is now operated by John Anderson for ODRATEK, a technology incubator that has extensive experience in the pro-audio industry. John owns the world-class recording studio The Spheres in Montesilvano, Italy, where most of the classical, jazz, and world albums of Odradek Records, ODRATEK's parent company, are recorded.
Since acquiring Microphone-Data, Riccardo has expanded the original database of a little under 3000 microphones to include now almost 4500.
A History of the Original "Microphone-Data"
Microphone-Data was originally developed as a book and then a desktop database for Rycote Microphone Windshields in the 1990s, at the behest of Rycote's owner, Vivienne Dyer. Chris Woolf, who was working as a senior consultant and product designer for Rycote at the time, took it on, collating all the records he could find into a book, as a resource for the design of Rycote's suspension and windshields systems.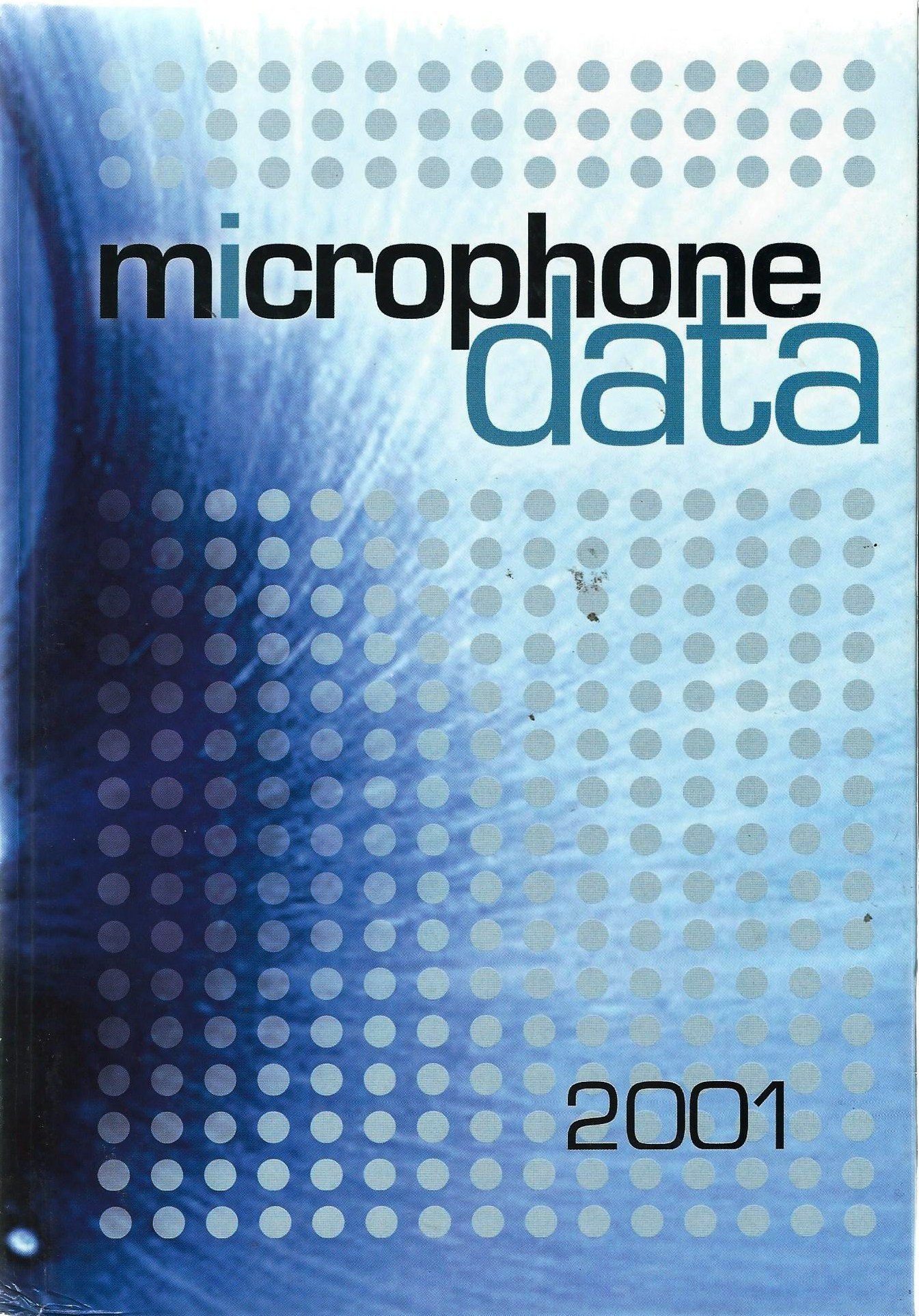 As the database grew, the book format became unwieldy and quickly obsolete, and thus it was transferred to delivery via CD-ROM, with the option of an update service. Around this time a great many manufacturers began producing new mics, mostly for home recording. To keep up with the pace, and to reach an ever larger audience, Chris, with the help of his son, Simon Woolf, then developed it into a web-based resource.
Chris continued to handle all the data input until 2017. The original web version was developed using an MS Access database and VBScript. It was administrated with a desktop MS Access client, which was then synced with the web version periodically.
In 2009, Rycote decided to hand the project over to Chris and one of his colleagues, Hugh Robjohns (SoS Magazine) as co-editor. Simon Woolf's software development company, Loopo, redeveloped the entire site, using a brand new design, MySQL database and a Django back-end. The team comprised Gui Andrade (design), Stephen Wolff (developer), and Julian Stopps (project management).
The site was based on absolute neutrality – every mic was described by whatever published data was available, and normalised to the same units. Manufacturers could not pay to have more space for a mic or to advertise. That worked well for Rycote's original purposes but made finding a way for paying for the site rather hard. The site however continued on as a labour of love, attached to Chris' day-to-day business.
Rycote then repurchased the site back from Chris Woolf in 2017, before shortly deciding to sell it to Scott Emerton (former marketing director for Rode Microphones) in 2018. In 2019, the site was acquired by ODRATEK BV, who rebranded the site Micpedia.com and has since worked to update and clean the database and expand it to its current collection.
Original Introduction of Vivienne Dyer to Microphone Data
The recording industry has long needed a comprehensive and informative guide to microphones. Rycote published, in conjunction with Human Computer Interface, the first Microphone Data Book in 2001. This second edition takes the form of a CD-ROM.

Microphone Data seeks to list all microphones that are in professional use and currently available, and to provide technical data in a unified form that allows informed comparison. This allows users or potential purchasers to choose likely microphones for a particular application, identify the attributes of an existing microphone and confirm that it is technically suitable for a particular task.

In order to keep this directory of microphones both comprehensive and up to date the CD can link to an Internet website and, after a simple registration procedure, allow the downloading of updates as new microphones are brought out. As a reference source for those concerned with professional microphones it has no equal and the Microphone Data Book has already proved itself to be an invaluable and fascinating source of information.

Rycote has also commissioned articles from some of the best know specialists within the microphone world. You will find articles from Dave Malham, Hugh Robjohns, Ron Streicher, Michael Williams and Jörg Wuttke all of whom I would like to thank for setting aside busy schedules in order to help us.

I would like to express my gratitude to all the microphone manufacturers, for without their willing cooperation and collaboration it would be impossible to produce such a database and keep it current. My thanks also go to Logo Design for their accuracy and patience in translating all the frequency curves and polar diagrams into a standard format and to Loopo – Stephen Wolff and Simon Woolf – who have masterminded the conversion of Microphone Data from paper to CD. Finally, my special thanks to the editor, Chris Woolf, who has, as ever, maintained his good humour and positive attitude through compilation to completion.

Please enjoy Microphone Data.

Vivienne Dyer

Rycote Microphone Windshields Ltd
Micpedia hopes to be the next chapter in this legacy, carry on this worthwhile legacy, and maintain this database for lovers of microphones well into the future!
Please enjoy Micpedia!